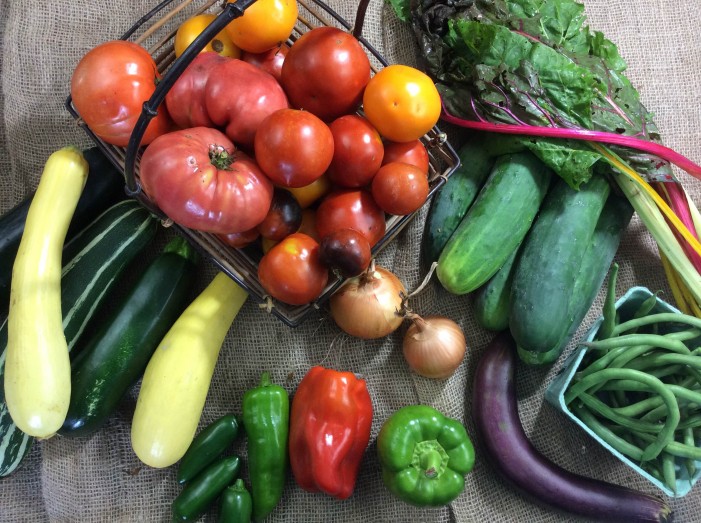 For Week 15 of the Redfearn Farm CSA, the CSA crates will be full of these abundant summer vegetables: Zucchini/ yellow squash, Tomatoes, Candy Onions, Cucumbers (finally!), Swiss Chard OR Cabbage, Green Beans (Partial shares only), Eggplant (Full shares only), Sweet Bell Peppers, and Spicy Peppers. When you pick up your CSA share; make sure to choose between Swiss chard OR Cabbage.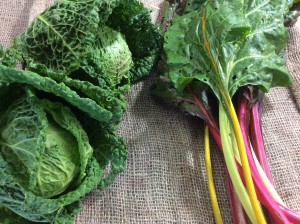 Zucchini/ summer squash: store in plastic bag in refrigerator. Zucchini is great sauteed, grilled, eaten raw, or baked into zucchini bread (my kids favorite way to eat zucchini!). Zucchini (sliced and broiled or pan fried) can take the place of pasta in lasagna. To grill: slice on the bias (diagonal, so the slices are larger) about 1/4″ thick, drizzle with olive oil, salt and pepper and herbs of your choice, (I use a rosemary garlic mix) and mix well to thoroughly coat the slices, and grill (or roast in the oven at about 425 F) until tender. If you want more ideas, you can try Baked Zucchini Fries, Squash baked eggs or Zucchini Fritters (these were very good) or Chocolate Zucchini Bread. One of our favorite recipe for a main dish of zucchini is this Cheesy Zucchini Casserole (which we make with shredded sharp cheddar, instead of Velvetta; chopped sweet peppers and sliced fennel can be added to the onion while sautéing ). Here's a couple other zucchini recipes, recommended by CSA members: Curried Zucchini Soup, Sauteed Zucchini with Cherry Tomatoes (don't overcook the zucchini!), and Zucchini Chocolate Rum Cake.
To preserve zucchini/ yellow squash: option 1: shred and freeze in freezer bags, to use in zucchini bread or soups or sauces. Option 2: dehydrate in dehydrator until dry like a chip. I usually store in the freezer, if not perfectly dry. Use the dried zucchini in winter soups or sauces (make sure to add them early enough for them to rehydrate).
Tomatoes: Store at cool room temperature, in a single layer if possible, not in a plastic bag. Here is a website that gives many different Tomato Salad Ideas. This Roasted Tomato Tart recipe is a favorite of mine. Another favorite is baking thick slices with a cheese topping like these Parmesan Tomatoes (I made them without the spicy brown mustard, and really liked them).
To preserve tomatoes: you can freeze them by cutting out the core and any bad spots and putting them in a freezer bag. To use after freezing: thaw slightly in water and the tomato skin can be easily peeled off. The tomatoes can them be used in soup, sauces or other cooked tomato recipes (after freezing the tomatoes will be very soft, but still have good flavor). You can also dry (sliced) tomatoes in a dehydrator following your dehydrators instructions. Or roast tomatoes until desired dryness and then freeze. Tomatoes can also be canned whole, chopped, as salsas or tomato/ pasta sauce (make sure to follow a recipe that is designed for home canning!).
Here are a few more tomato ideas:
Cucumbers: store in a plastic big in fridge. Here are a couple cucumber salad ideas: Cucumbers with Sour Cream, Cucumber and Tomato Salad. Smaller cucumbers make great pickles, like this Dill Pickle recipe.
Swiss Chard: store in plastic bag in fridge. Both the stem and the leaves can be eaten and I usually use both together; chop the stems like you would celery and begin cooking the stems before adding the greens. Our family really likes this Swiss Chard, Sausage, White bean casserole (which also uses a little fennel bulb, and I use the stems and leaves of the chard). This Swiss Chard and Ricotta Crostata  is a wonderful recipe, and one of my all-time favorites.
Green beans: store in plastic bag in refrigerator. Basic cooking instructions: trim the stem end off and leave beans whole or snap into shorter pieces. Heat a pot of salted water to boiling, add beans, and boil 2 to 3 minutes, until almost tender- crisp. Drain beans very well (if you will be finishing the beans later, cool the bean beans to prevent further cooking). Heat butter and olive oil in a skillet (about 1 T each, can be increased or decreased to taste) over medium heat, add beans and salt and pepper to taste, and stir until tender, toward the end of cooking add 1 or 2 cloves garlic (chopped) if desired. Additions: crumbled bacon, toasted slivered almonds, stirred into the beans after cooking.
Sweet pepper:  Store in plastic bag, in refrigerator. Meal idea: sauté sliced candy onions and sweet pepper for a tasty Philly Cheese Sandwich . This has become a family favorite!
Hot peppers: Store in plastic bag, in refrigerator. Chop and add to salsa, or use in this Jalapeno Popper Chicken.
Eggplant (full only, this week): store in plastic bag in refrigerator. Pictured is an Asian Eggplant, but can can be used the same as an Italian (round) Eggplant. Sliced eggplant can be grilled or sauteed. Eggplant slices can replace some of the zucchini in the recipe "Zucchini or Summer Squash Lasagna".
Zucchini or Summer Squash Lasagna
6-8 small- medium Summer Squash (yellow, green or combination)
1 lb. Ground Beef or Sausage
1 medium Onion, chopped
3-4 cloves Garlic, chopped
1 jar Pasta Sauce (homemade or store- bought)
15 oz. Ricotta Cheese
1/2 C. grated Parmesan Cheese
8 oz. shredded Mozzarella Cheese
2 Eggs
¼- ½  C. fresh basil, chopped
Directions:
Slice squash lengthwise into ¼ inch slices, sprinkle with salt and let stand 30 minutes.  Drain and pat dry.  Lightly brown slices, both sides, in olive oil in large skillet or griddle.  Roasting the squash slices at 400 F is another method. Set aside.
Meanwhile, brown meat with chopped onion and drain.  Return to pan and add chopped garlic, cook 1 minute and add pasta sauce, half of chopped basil and salt and pepper to taste.  Set meat sauce aside.
In a mixing bowl, combine ricotta cheese, half of grated parmesan, half of shredded mozzarella, 2 eggs, remaining chopped basil, and freshly ground pepper.
In a 9" x 13" pan, spread a small amount of meat sauce in the bottom. Layer with 1/3 of the squash slices, top with half the cheese mixture and 1/3 of the meat sauce; repeat once.  Top with the remaining squash and meat sauce.  Reserve remaining shredded mozzarella and Parmesan for topping.
Cover and bake at 375 F for 20-30 minutes or until bubbly.  Top with remaining cheeses and bake 5 more minutes.
Looking ahead: more of these summer vegetables, and everyone should get green beans the next couple weeks (as long as we have harvest help!).

Hi there! I'm Dave,and together with my wife Sheri and the kids, and along with Mom Redfearn, we make up the Redfearn Family Farmers.

We work as a family alongside a community of committed community supported agriculture members to grow healthy food in an environmentally responsible fashion. If you live in the Kansas City area, we'd love to be your farmers too.

Latest posts by Dave Redfaern (see all)